---
Welcome to the Schmeckfest Online Store!
Thank you so much for your interest in Schmeckfest tickets! Due to the wonderful response we are unfortunately all sold out for both meal and show tickets at this time. A very limited amount of ticket exchanges might take place through the ticket office. If you have placed a ticket order after March 17 you can pick up your order from the ticket office.
The ticket office is located in the lobby of Pioneer Hall and will be open Friday March 24th from 1:00-8:00pm and Saturday March 25th from 1:00-8:00pm.  If you have any questions, call 605-929-4716.
Use the menu at the left to select tickets for purchase.
Thank you interest in Schmeckfest and we look forward to seeing you in 2023!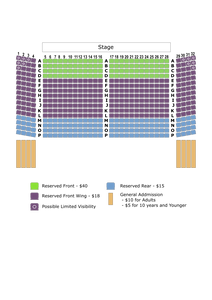 2023 Musical Seating Chart
Our seating chart for the 2023 musical "State Fair" is slightly modified from previous years. Please take a moment to review the chart before purchasing your musical tickets.
Just a reminder that tickets purchased prior to Jan 1, 2023 will be assinged seating in a randomized order. Tickets purchased after Jan 1, 2023 will be fulfilled in the order they are received.